What We Do
Advocacy & Organizing
The MinKwon Center for Community Action believes that community action – grassroots outreach, community education, leadership development and empowerment, advocacy and mobilization campaigns – is at the heart of what we do. We focus much of our efforts on our community in Flushing, Queens, the largest Korean American and Asian American community in New York City. As new arrivals, our immigrant community members face serious language and cultural barriers, legal issues, and disempowerment. For 25 years, the MinKwon Center's Advocacy & Community Organizing efforts have engaged these community members to find their own long-term, community-led solutions to these problems.
Empowering our Community - Grassroots Organizing & Base-Building Efforts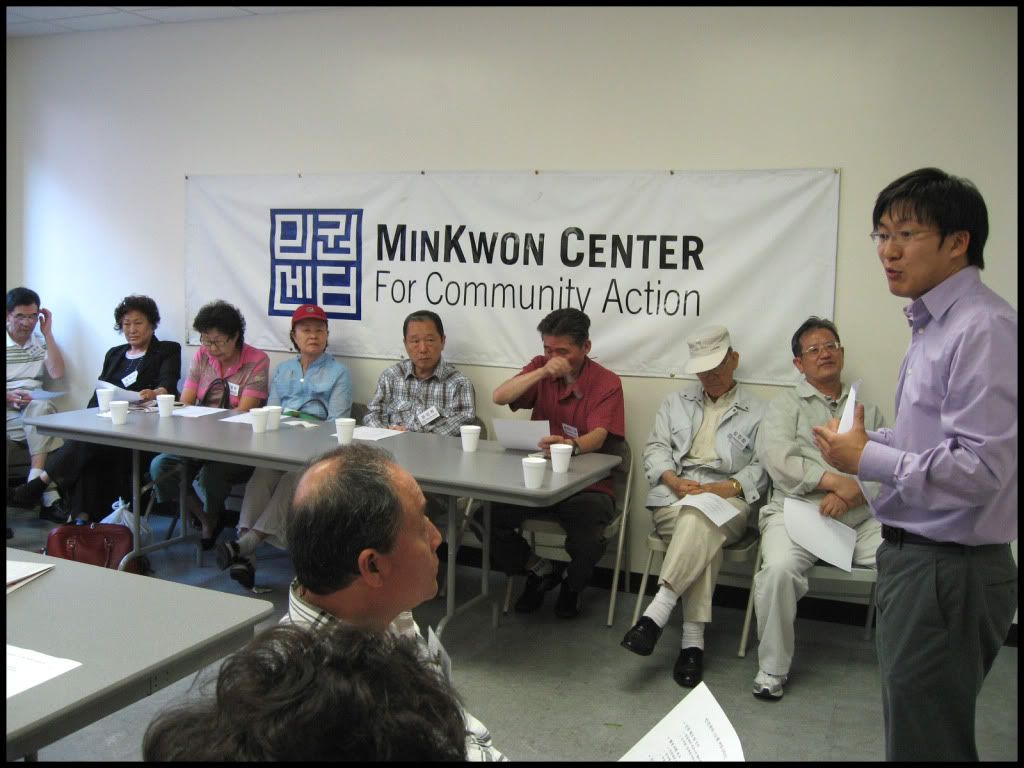 The MinKwon Center for Community Action believes that true social change can only occur by empowering our community members to engage themselves directly in campaigns and build community power. To this end, the MinKwon Center engages in a comprehensive set of organizing efforts: street and grassroots outreach, weekly community conversations and monthly general member meetings. We then build leadership and engage these members in major mobilizations and campaigns to find solutions to immigrant rights issues on the city, state, and Federal levels.

The MinKwon Center works with a base of community members who are already active in our current organizing and advocacy campaigns. With our expanded outreach, education and base-building efforts, we continue to build this group of active community members, providing our members with in-depth education on advocacy and leadership skills to become informed and involved in the campaign efforts. Our long-term goal is to empower community members into a strong, educated, and engaged base of constituents who will continue to hold elected officials accountable and engage in proactive efforts on the following community issues.

Broken System, Broken Promises: Mobilizing for Comprehensive Immigration Reform
The MinKwon Center has engaged in several major campaigns to fight for comprehensive immigration reform (CIR), a critical piece of Federal policy for immigrant communities in the United States. Although politicians have long promised to push for a comprehensive immigration policy, CIR has continued to be left off the national agenda. Immigrant communities in New York and across the United States have been left at the mercy of destructive enforcement practices – raids, the criminalization of immigrants, and inhumane detention practices.

The MinKwon Center has historically been committed to taking an active role in the fight to achieve a progressive CIR bill that will bring an end to the hostile enforcement policies, strengthen immigrant families and communities, and bring millions of undocumented immigrants out of the shadows.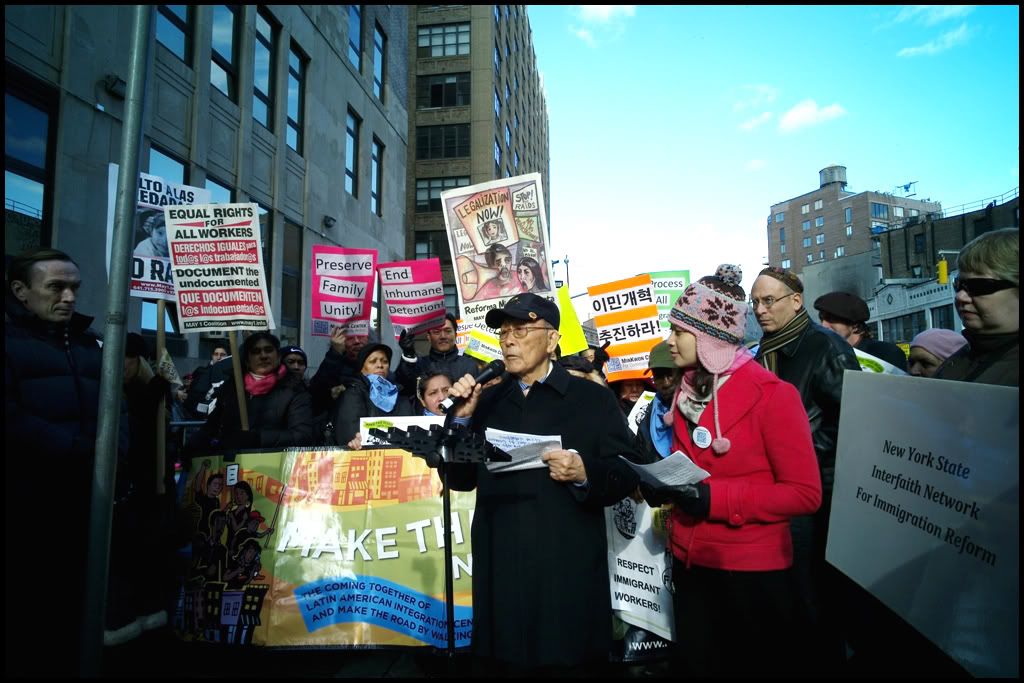 In 2005, we co-launched our New York Times Ad Campaign that raised $80,000 for an ad that highlighted immigrants' contributions, and in 2006 we organized a "Sending Immigrants' Pictures" Campaign that sent more than 5,000 pictures and testimonials to the White House and Congressional Leadership to advocate for immigration reform. We have also begun to engage broader constituencies – we worked with the NAACP – Northeast Queens on our 2008 Truth about Immigrants Campaign, a grassroots educational campaign to dispel myths about immigrants. Recent accomplishments include:

- Mobilizing 450 Asian American on March 21, 2010 for the March for America's Future in Washington D.C., joining over 200,000 community members and allies to push for a progressive CIR bill and highlight the plight of immigrants. Throughout the spring, we continued our efforts to mobilize our community members and urge our elected officials to introduce and pass a humane and just immigration reform bill.
- Organizing 50 community members for a city-wide rally on May 1, 2010 to urge elected officials to pass CIR and fight for workers rights.
- Holding a Queens Town Hall Forum on August 27, 2009 with five other Queens immigrant rights organizations at the Macedonia A.M.E. Church in Flushing. We invited elected officials to hear directly from more than 100 affected community members about the critical need for immigration reform.
- Meeting with New York State Senator Kristen Gillibrand on February 2, 2009 to advocate for support for an immigration reform bill in collaboration with other New York Immigration Coalition (NYIC) member organizations.
The time is now for immigrant communities to come together to push for a just, humane immigration reform bill. The MinKwon Center for Community Action is committed to engaging our community members and advocating on this issue until we achieve this result.
Fighting Budget Cuts, Pushing for Funding Equity
The MinKwon Center has played a leading role in mobilizing and organizing low-income immigrant and Asian American community members to fight against potentially devastating cuts to basic social services in New York City and State budgets. The Asian American community is more than 12% of the City's population and is the fastest growing community, yet Asian community organizations only receive 0.24% of all social service funding – a shocking disparity that underlines the lack of resources for the Asian American community. In 2009, the MinKwon Center co-founded the 12% and Growing Coalition – the first-ever coalition of 40 Asian-led and serving-organizations in New York City - to ensure that state and city governments support our vulnerable community members during this economic downturn, and in the long-term to ensure that our critically-underserved communities are provided with an equitable share of resources.

The MinKwon Center's recent campaigns and activities include:
- Leading the first-ever Asian Pacific American Rally and Advocacy Day on April 22, 2010 in front of City Hall, drawing 200 community members. Because of these collaborative efforts, we helped play a key role in restoring funding on both the city and state levels to services vital to the well-being of our communities.
- Engaging with more than 800 community members and collecting more than 3,300 postcards as the point organization for a citywide effort to pressure elected officials to support the 12% and Growing Coalition agenda.
- Mobilizing more than 100 community members in the spring of 2010 for the NYIC's advocacy days in Albany and City Hall to fight for critical immigrant services – including education, health care, small businesses, ESL classes, affordable housing, workers rights, and other human services.
- Serving on the Steering Committee of the 200-member-strong "One New York Coalition," a group of community organizations representing low-income communities affected by budget cuts, taking part in mass rallies in front of City Hall as well as legislative visits.
I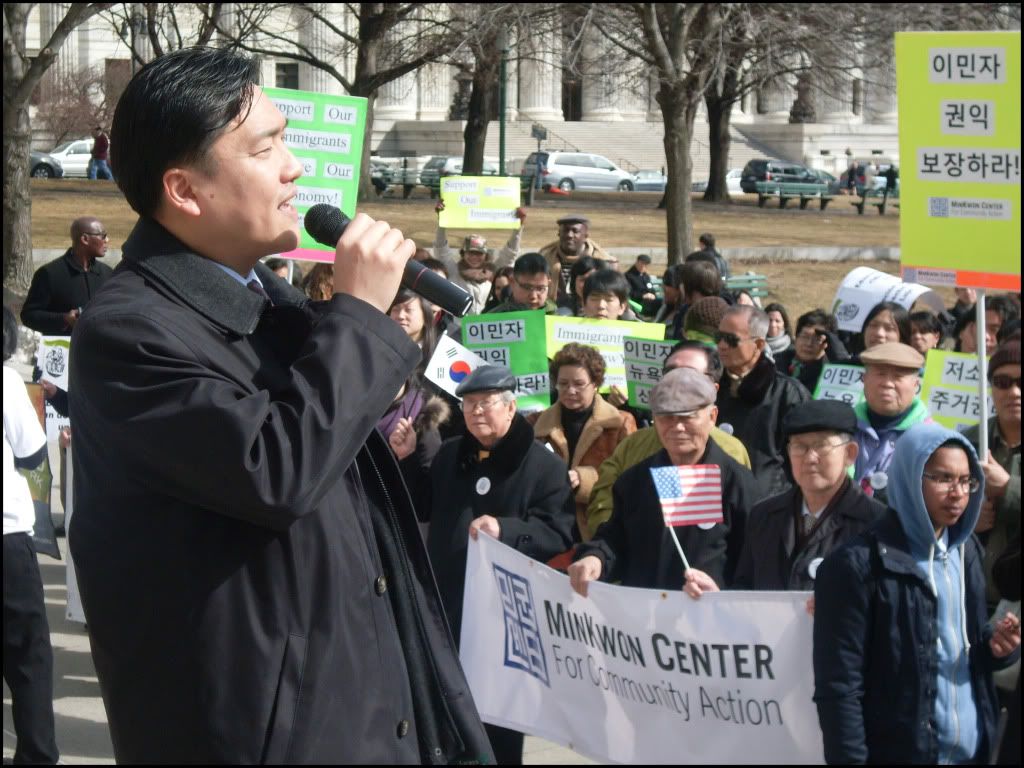 n 2009, our advocacy helped result in significant restorations in the State and City budgets for essential services. Unfortunately, many of our budget priorities were restored at amounts lower than previous years. The MinKwon Center will continue to be active on these issues as long as our communities remain vulnerable to the threat of cuts in crucial services and continue to face the larger, systemic problem of funding inequities for the Asian Pacific American and immigrant communities.



Strengthening Workers' Rights in Times of Need
Many of the 200,000 Korean Americans in the New York City area often work at low-wage jobs deep inside the "ethnic enclave" economy, as nail salon manicurists, waiters and day laborers. Labor violations such as the failure to pay legal wages, minimum wage, overtime wages, and retaliatory firings are both flagrant and common. Because of limited English proficiency and a lack of familiarity with American labor laws, many of these immigrant workers lack knowledge of their legal rights and their ability to access available benefits such as unemployment benefits and workers' compensation. The current economic recession has put these workers in an even more difficult situation.

The MinKwon Center has been actively advocating on behalf of these workers – both for our existing labor clients served by our Immigrant Rights Legal Clinic, and for the larger low-wage immigrant worker population. Recently, the MinKwon Center has been:
- Serving as a leading member of the New York Unemployment Insurance Coalition to advocate for a more accessible process for immigrants to receive benefits, as well as a more generous UI benefit rate to match the higher cost of living in New York.
Leading a coalition to increase language access for LEP workers, resulting in increased translation and interpretation services including Korean-language translation of key documents and guides to Department of Labor services.

Upholding Tenant Rights
Housing issues are a key concern for our communities. Two of every three Flushing residents are renters, a third of these renting households are below the poverty line, and more than a quarter of all Asians in Flushing spend at least half of their income on rent. The situation has only gotten worse - from 2002 to 2005, affordable rental units in the area for moderate-income earners dropped 30%. Almost a quarter of all housing units in Flushing – nearly 8,000 homes - are classified as "severely overcrowded," and In households below the poverty line, fully one third of all renter households even lack complete plumbing facilities. Yet landlords often overcharge rent, refuse to fix defects or problems, and access to city housing services for LEP immigrants is often unavailable. In addition, homeowners are facing a wave of foreclosures in Queens, the epicenter of the foreclosure crisis in New York.

The MinKwon Center organizes and engages low-income tenants and foreclosure-affected persons in campaigns to ensure that our community retains access to safe and affordable housing. The MinKwon Center is a key member of coalitions such as the Queens Housing Council, the NYIC's Immigrant Housing Collaborative, Queens for Affordable Housing, and the Queens Vantage Tenant Coalition. The MinKwon Center has recently been:
- Co-leading the Queens Housing Council's Major Capital Improvement (MCI) campaign to fight illegal rent increases and make the process transparent for all tenants.
- Participating in the Queens Vantage Tenant Council to protect Korean and Asian American tenants facing eviction and harassment from predatory equity firms.

Preserving Language Access for Immigrant Communities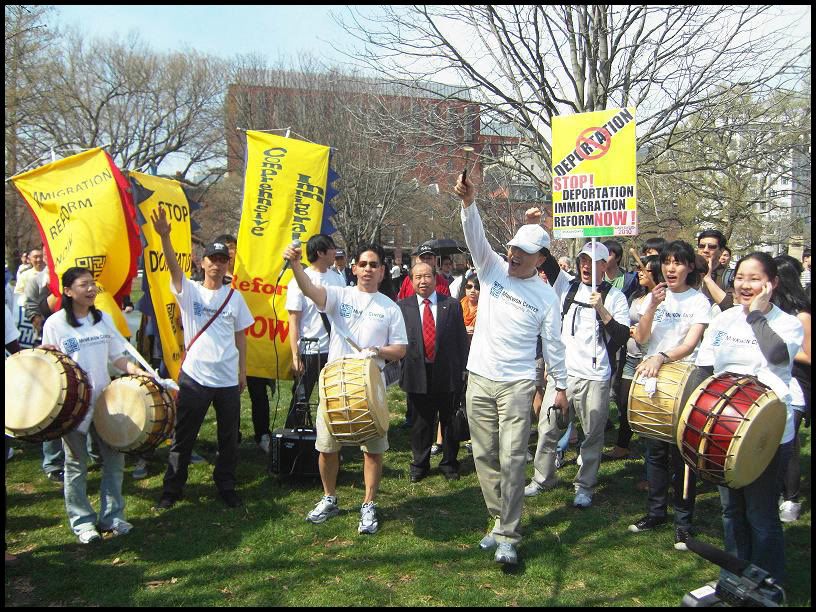 Language access issues are vitally important for our Korean, Asian and immigrant communities. More than 70 % of the Korean American community are 1st-generation immigrants, more than 60% of the working-age population are limited-English-proficient, and Korean Americans make up one of the largest LEP communities in New York. While city, state and Federal governments are legally required to provide language access to LEP individuals, they often fail to do so - and our community members have constantly been denied language access to vital services.

The MinKwon Center has recently engaged in concerted advocacy action on language access, including:
- Serving as a plaintiff in a lawsuit against the Human Resources Administration for failure to provide proper language access to Korean- and Chinese-speaking community members for crucial service benefits such as food stamps.
- Participating in a coalition to push New York State government to enact a comprehensive language access bill covering a wide variety of state agencies.

Testimonial from MinKwon Center Community Member
Choi Sung Mo: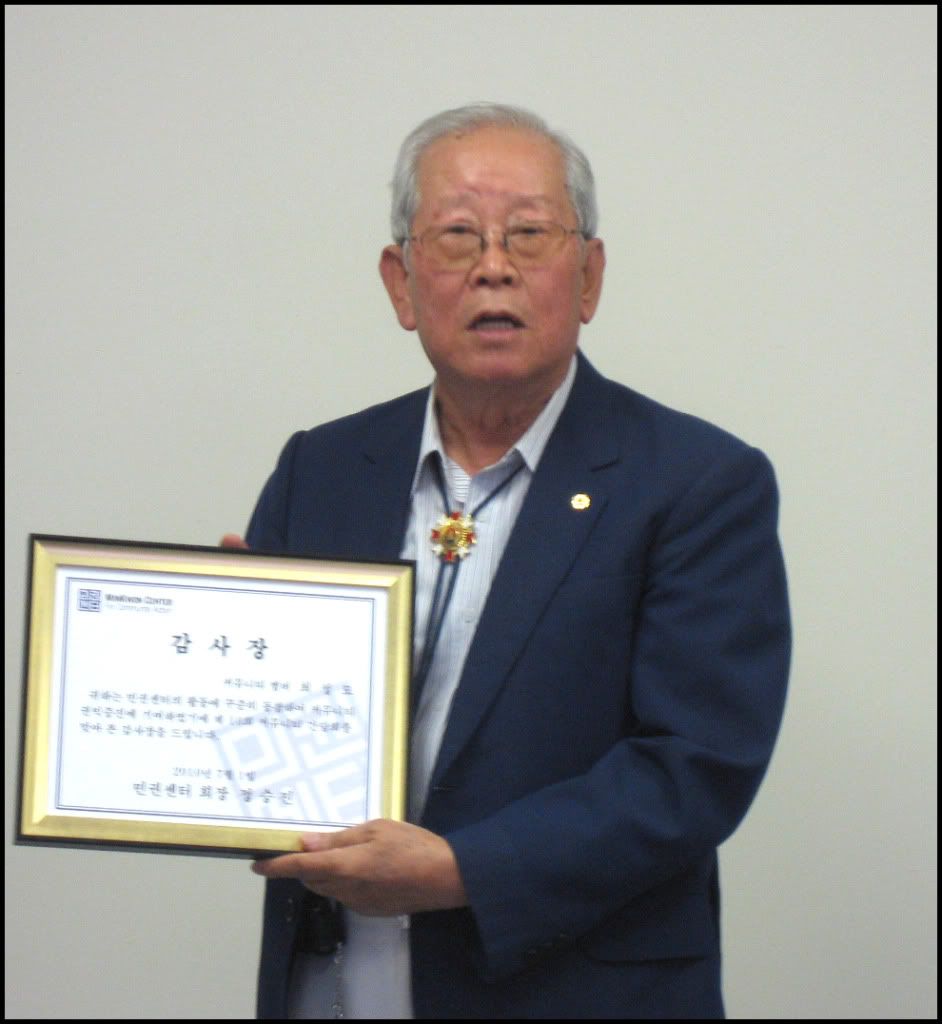 I immigrated here to the United States with my wife in 1979 and currently live in Corona, Queens. In the beginning of my immigrant life, while holding a bunch of different odd jobs, I started to become accustomed to the immigrant life. 1990 was the first time I heard of the MinKwon Center. At that time, I couldn't be involved due to my wife's medical condition, but I knew since then that the MinKwon Center was one of the most vibrant and active Korean American organizations. As I heard more news about the community work and growth of the MinKwon Center, I started to become more interested in taking part in its activities.
With immigrant rights advocacy, civic empowerment, and various legal and social service programs, being part of the MinKwon Center gave me a sense of empowerment. Through the MinKwon Center, I took part in rallies in Albany, Washington DC and gave me a sense of what it means to be part of a community. I've also received help in getting a cell phone through the SafeLink social service program. In light of the recent name change from YKASEC to the MinKwon Center, I started to take part in monthly community meetings and proactively became part of its events. Through the meetings, I learn about the current issues facing immigrants like myself and the Korean-American community. I currently take part in rallies, including the most recent Albany, City Days and March for America's Future mobilization in Washingtion DC. I also take part in the Census 2010 outreach efforts.
For the past 27 years, the MinKwon Center has taken great strides to empower the Korean American community through its various efforts. I hope to, with my small efforts, contribute to the MinKwon Center and its work.