What We Do
Youth
The MinKwon Center views young people as potential leaders, both now and in the future. Our Youth Empowerment Program (YEP) provides the opportunity for local Asian-American high school youth to develop the social, life, and leadership skills that will allow them to become assets to the community, by educating them on critical issues and having them organize their own advocacy campaigns on behalf of the community.

The MinKwon Center is located in and primarily serves the low-income immigrant community of Flushing, Queens, where many of our youth members live, plagued by difficult conditions. According to the 2006 American Community Survey, one out of every five Flushing Asian American residents live in poverty, one-third live in overcrowded households, and over half of all Flushing families have a family member who is limited English proficient.

Many Asian American youth face abysmal school conditions, overcrowded classes and insufficient resources. These structural barriers in education prevent many of these youth from reaching their academic, civic, and personal potentials. These problems are often perpetuated by a lack of student engagement, resulting in very little to no participation from students in the decision-making process of their own educational system. In addition, over three-quarters of the Korean American population are foreign-born and one out of every five people is undocumented. Underage youth make up a major proportion of this specific population, who - by no fault of their own - lack proper immigration status and subsequently face barriers going to college.
"The MinKwon Center taught me what it truly means to be part of a community. As young people, we are often disillusioned that due to our age, we do not have much influence or power. Being part of the MinKwon Center – and taking part in activities that advocate issues that affect my peers and I - gave me a sense of empowerment. By organizing my peers, I can make a difference – for myself and the community." - Jun Jeong

Developing Socially Conscious Youth through the Youth Empowerment Project

Our signature youth program, the Youth Empowerment Project, is a seasonal program that equips local Asian American high school youth with the foundation to become community activists and leaders. The YEP believes in development through service-learning, with the definition of service-learning being "a process whereby knowledge is created through the transformation of experience". As a result, the YEP engages our youth through an education component and an action component.
"Working on a campaign to address an issue not only strengthened my relationship with the community but also helped me become more goal-oriented. A lot of the things I do at the MinKwon Center – from building work plans, holding meetings and organizing my peers – gave me skills that I can utilize in school and when I have a career." - Anonymous

Educating Our Future Leaders
A typical program session starts off with our education component: a rigorous curriculum of educational sessions, workshops and activities held in a week-long retreat, designed to nurture participants' ability to think critically about social issues, such as race, class, ethnicity, and gender. Participants focus on building their social consciousness of the community and issues, learning practical community skills and hands-on tactics that they can utilize to organize the community. We then follow up the retreat with a weekly series of workshops and educational study sessions to continuously expand their knowledge on community issues.

The YEP works with about 70-80 youth participants on a yearly basis, with hundreds of more youth engaged in a variety of social issues through the YEP's community advocacy work.

Creating Leaders through Action & Peer Organizing
We believe that young leaders are not born overnight; leadership is cultivated through education complemented by action. Through our action component, our youth members are tasked to organize other youth around various issues affecting themselves and their communities.

• Immigrant Youth and Access to Higher-Education: Movement-Building for the DREAM Act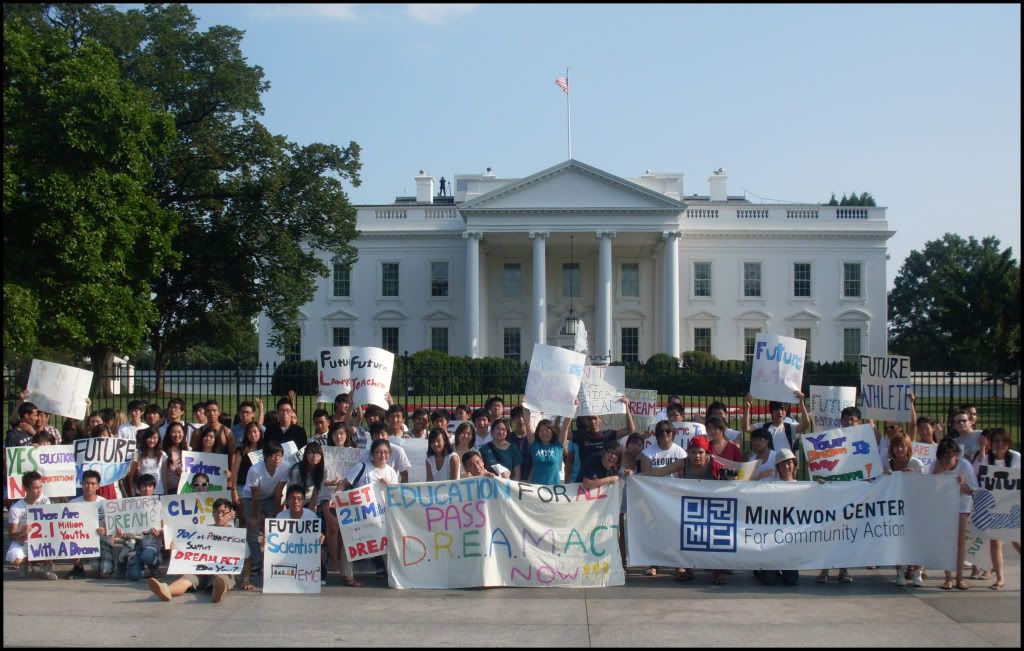 MinKwon Youth members have engaged in a major grassroots organizing campaign around the DREAM Act, a bill in Congress that would remove barriers for immigrant youth attempting to access higher education. The campaign consists of street outreach efforts, gathering over 650 pledges of support and culminating in the first-ever "Dare 2 DREAM" conference in 2009, where over 150 young people participated in youth-organized workshops, and panel discussions. In 2009, 30 youth members also joined over 300 youth from across the country for a national DREAM Act advocacy day in Washington D.C.
"When I first started the "Dare to DREAM Campaign" for the NYS DREAM Legislation, I did not know if I could gain much support from the Korean community in Queens area. There is such a big culture of shame and silence about one's immigration status. It is something that we tend to not talk about. Also because the DREAM has been around for so long, it thought that people had lost interest and hope in it. But I was wrong. I realized that the 11 years of hard working on the DREAM by MKC has actually changed a lot of communities' perspectives." - Emily Park

• Organizing for Educational Justice: Campaign to Reform Student Engagement in Public Schools
Many Flushing Asian American youth face difficult school conditions such as overcrowded classes and a striking lack of resources. Students are often absent from the decision-making process of their own educational system for immigration status, language, and cultural barriers as well. YEP youth members have sought to address these issues by embarking on a year-long documentary project to raise awareness of the issue of mayoral control and the critical need for student involvement in schools. A short-film documentary was produced, highlighting the issues behind the lack of student participation in the decision-making process. The film was shown to over 50 youth through multiple film screenings was posted on Youtube.com.

• Building Youth Power in Flushing: Increasing Awareness of Opportunities for Youth in Flushing

To investigate the depth of issues that local Flushing youth face, MinKwon Center youth members organized the first-ever action research on youth in Flushing. Through this research, youth members collected over 600 needs assessment surveys of youth living in Flushing, leading to a finding of serious disparities in knowledge between young people on the resources and opportunities available. Youth members then developed a pamphlet guide, mapping all of the programs, services, resources, and opportunities available in the community to bridge the gap.


The Youth Empowerment Program is a powerful first step towards engaging, educating, and developing the capacity of Asian American youth to become active, self-empowered creators of public life. Through our work, the MinKwon Center hopes to raise a generation of socially conscious individuals that understand the importance of community engagement and civic involvement.